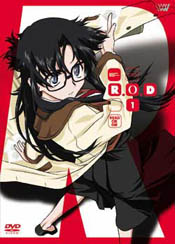 A very simple costume but one of my al time favorites. I found Read or Die on a recomendation from my friend Fletcher. And I instantly fell in love with it. But then, who can resist super spy libarians?
Most of the costume was store bought. I found the shirt,skirt, and shoes at a local thrift store and the tie came from Mervin's. The overcoat was also store bought, which I added vinyl cuffs pocket flaps and a collar to. The glasses were a cheepo pair of sunglasses I bought then popped the lenses out. I was very suprised to find big square frames likes that! The wig was the most expensive part of my costume. But I do anticipate using the wig again down the road so I didn't mind spending the money.
The vest I made myself, modifying a vest pattern I had slightly to get the right look, and nipping it in at the waist. Though I lost a couple inches before AX, the thing was still rather baggy. It will have to be taken in again the next time I wear it.
The next Read Or Die character I want to tackle is Miss Deep. She looks like she'll be a very fun challenge.
Most of these pictures were taken by Kyle the Cosplay.com, admin. and Eurobeat King at Anime Expo 2003
.