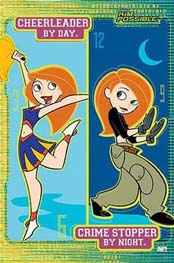 A throw away costume really. But one I had a BLAST wearing. In retrospect I'd like to go back and make it more accurate but for what it was worth, I looked more or less like Kim Possible.
I became hooked on KP when my friend Jen showed me the movie So Not The Drama. I was impressed with the show's writing and wonderful characters. So I ploted to cosplay Kim someday. When I found a black cropped turtleneck on a dancewear supply site for MEGA cheep, I went for it.
My boyfriend Max lent me a web belt and amo pouches since I hade no time to make a proper looking belt. The best part of this costume was not having to wear a wig and having little girls wanting to take their picture with me. AWSOME!
Pictures taken by Eurobeat King.