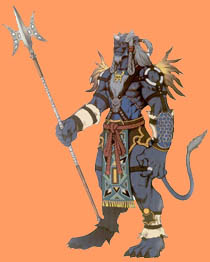 The summer after my first year of graduate school I was asked by a friend to make a costume. I was feeling very confidant at the time after taking a very detailed patterning class so I took on the challenge.
Kimahri was the first Anime/Final Fantasy costume I have ever made. I myself am not heavily involved in the world on Anime so I had no prior knowledge of who this character was or what he was like. Luckily I was provided with very good research which helped me.
I found this costume to be a particular challenge because of the amount of craft work involved. Not only did I find myself having to pattern and sew, but also having to come up with creative (and cheap) ways to make what appears to be a heavy industrial garment, wearable and functional for a normal sized man.
Most of the fabric I was able to find at an upholstery fabric store. It was a nice and economical solution for what I assumed was leather. The rivets on the straps were upholstery tacks. The shoulder rings were Styrofoam flower holders that I painted with metallic acrylics. The chain mail was particularly hard. I was able to find some interesting lug nuts at an Ace Hardware. I wired each piece together individually with some very thin floral wire. Unfortunately I kept cutting my fingers on the wire with the more lug nuts I linked together. The wings are made with actual feathers, which proved to be much easier than I anticipated. If I had more time I am sure I could have made them a bit more graceful though. The wig, prosthetics, and necklace were made by the wearer.
Kimahri is my first commissioned piece and what I feel is my best costume to date. I hope I get more opportunities to work in the realm of Anime. Although I don't know much about the genre, I have fallen in love with the intricate designs of the clothing and hair.
Some pictures courtesy of risingsun.net