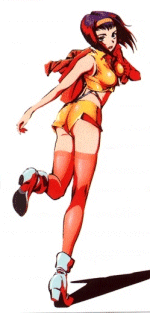 I blame Cartoon Network for my current Obsession with Cowboy Bebop, No matter how you slice it, its just freakin' cool. So as my first anime character I have ever cosplayed I chose Faye simply for the fact that she is cool.
One lesson I have learned while making this costume...I hate vinyl.
The first four pictures are from when I completely redid the costume for AX 2005. I feel now its far better fitted and much more true to the actual art work. Plus the shoes didn't kill my feet.
Most of these pictures were taken by Kyle the Cosplay.com, admin. And Eurobeat King.