Froudian Fairy - Cosplay.com Original Photo shoot. November 2003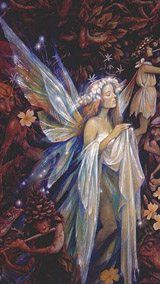 A quick fairy costume I put together for a cosplay.com photo shoot. I really wish I could take credit for making the gown and the robe but I can't. I bought both of these at the SDSU costume shop Halloween sale a few years back. It was from a production of Julius Caesar. I knew someday it would come in handy. When I decided to dress as a Fairy, I felt this was the perfect garment for one.
The head wreath and wings I did make. The wreath was pretty easy to construct. It was some wire and some lovely cloth flowers I found on sale at Joanne Fabrics. The beads were beautiful glass beads with gold painted on them. They really had a lot of sparkle but unfortunately that doesn't read in the photos. The wings where made out of some left over shimmer fabric I had from my Eden costume. I was surprised I had any left! The coloring was painted on with a tria marker to give it a little depth. Unfortunately I have no good pictures of the back. But they were finished off with some purple flowers and sparkling peacock feathers.
I had no specific Brian Froud photo in mind when I put this costume together. I just wanted to capture the feel of his paintings. I felt the gown and robe combined with Kyle's excellent photography captured at least a little of his art work.:)
Photos taken by Kyle at Cosplay.com