The Banshee - Gathering of the Gargoyles 2005
Winner- First Place: Cannon Character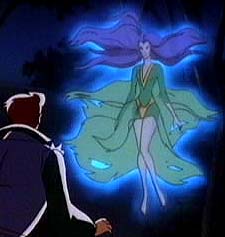 Its been years since I entered a Gathering masqurade. I have been on staff for the last few cons. And when not on staff I have been not able to attend. So I decided to participate in 2005.
The fae characters from the show Gargoyles have always been wonderfully written. One in particular being The Banshee. I loved how she was portrayed as a trouble making, rebelious creature. The Sexy songstress is hardly cosplayed at all at the cons either.
Once again I went against my "I hate body paint" feelings and dressed up as the purple lady. This is another costume I wouldn't mind touching up for another wear. I wanted to do some paint details/distressing on the skirt and sleeves as well as find a much longer wig. But apparently it was good enough to win first place!
A fun comfy costume to wear on a hot Vegas evening. And despite it being too short, I still loved that wig!
Photos Taken By Various Gargoyles fans/friends.