Arwen's Coronation Headdress - ComicCon 2004. Commission Work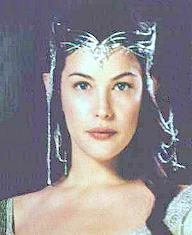 A commission I did for San Diego ComicCon. I never did a metal headdress before and I'm very proud at how this came out. Arwen's butterfly headdress from Lord Of The Rings: Return Of The King has always been one of my favorite pieces in the film.
Basically it is made of craft metal from The Art Store and different gages of wire. I found a wonderful tutorial from alleycatscratch.com. I used their patterns to cut the large butterflies out and bend the wires to. Since I don't own a soldering iron I put the piece together with some industrial strenght metal appoxy. After waiting for it to dry and sanding the edges with my dremmel, I painted the whole thing with silver leaf and a dusting of glitter paint for that extra sparkle. The colored parts were done with a mixture of pearlized acrylic paints. The beading was my favorite part to do. I used some simple glass beads from Michael's and strung them on some thin wire. The piece is finished off with two AB stones on the front and back butterflies.
This was one of the most challenging yet fulfilling commissions I've ever done. I would like to someday do another one, but use solder instead of glue to make the headdress more permanent. Although I never planned to cosplay Arwen, the thought has crossed my mind more often after doing the headdress.